Rex Energy, represented by Bob Wood, vice-president of the Illinois Region, and Jim Fehrenbacher, director of Illinois Land Regions, presented a check for $25,000 to the Lawrence Crawford Association for Exceptional Citizens. Arnold Herman, LCAEC executive director; David McDaniels and Shirley Rogers, board members, were among those accepting the check. "We are very appreciative," Herman said. In addition to maintaining operations of the LCAEC, the money will go towards repaving the parking lot at both the Lexington Avenue workshop and Treasure Chest (located on 15th Street, Lawrenceville). The money was made possible through the annual Rex Energy charity golf outing in State College, PA. (Photo by Barbara E. Allender)
The Lawrence County Cancer Resource Center received a donation last week from the Lawrence County Chamber of Commerce which was as a result of funds obtained from the Celebrity Chef event. Chamber Executive Director Rachel Gard (at far left) presents the check to Jodi Ayres and Susan Gher. Teresa Cunningham, a Chamber member (pictured at far right), also showed her support for the service which strives to fill the many needs of cancer victims and their families. Also known as the wig shoppe, located in the Lawrence County Health Department on U.S. Route 50 west of Lawrenceville, the Center also provides gas, food and lodging for those undergoing cancer treatments. Most recently, they assisted in building a ramp for a patient who was able to return home. Patients are also being referred to them from Good Samaritan Hospital in Vincennes and Lawrence County Memorial Hospital in Lawrenceville with needs. Some of their biggest concerns, Gher said, are in providing transportation and caring for pets of cancer patients. With such donations, however, the Center has been able to help more and more people The Center has a not-for-profit status and welcomes business financial commitments to ensure the future of the service. Those in immediate need are encouraged to visit the Center or call 618-843-4652. (Photo by Barbara E. Allender)
County gets ready for busy weekend of activities Party on the Roof
The "Party on the Roof," a fundraising event for the city of Lawrenceville, is slated for its second year, Saturday, Sept. 6. Again, the evening of local restaurant samplings, socializing and dancing will begin at 6 p.m. atop the Ladner Parking Garage in Lawrenceville.
Denison Township Chowder will have carry-out only
The Denison Township Chowder in St. Francisville will be Monday, Sept. 1st. Carry-out only. Soup will be ready at 7 a.m.
BARGAIN PRICE FOR RETIREMENT MANSION IN DESIRABLE COMMUNITY

(Click on property for more information)
707 State Street, Lawrenceville -- $100,000
---
Price Reduced for Great Home in Sumner
(Click on property for more information)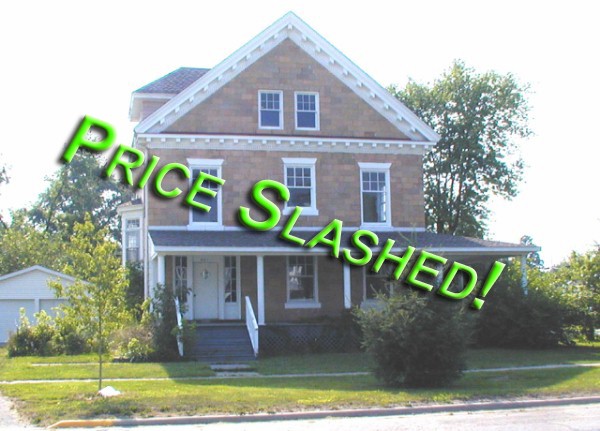 50l S. Christy, Sumner
This Saturday, musicians, vocalists, songwriters and music lovers, alike, will gather for the Third Annual Harmony Fest. Located in rural Lawrence County near St. Francisville, the outdoor stage venue will play host to a variety of live music.
This year's featured artists, Amanda Biggs and Krista Detor, Bloomington, Ind.-based performers, begin at 6 p.m. The eclectic mix of Blues, Pop, and Americana will complete the full day of music which ranges from Blues to Bluegrass.
St. Francisville loses buildings, gains another
By Barbara E. Allender
Last week, the City of St. Francisville lost another part of its community assets, the St. Francisville Christian Academy. It had not only a vital part of the active youthful presence in the village (since 1896), its financial contribution helped to maintain the city-owned building used as a community activity hub.
Lawrence County Memorial Hospital and Good Samaritan Hospital, Vincennes, will be co-sponsoring the second annual Bras Across the Wabash event to raise breast cancer awareness on Saturday,Sept. 6. From 10 a.m. – 12 noon, there will be featured speakers, a survivors walk, mammograms and blood draws and vendors from Westport (on the Illinois side of the Wabash River) to Patrick Henry Square in Vincennes.
Fish fry to benefit levee district
Rising Sun Christian Church, Rural Route 2, Lawrenceville, will be hosting a community fish fry on Sunday, Sept. 7 from 5—7 p.m.
The church wishes to thank the Russell/Allison/Ambraw Levee District commissioners and volunteers for all their work and dedication.